Basic Training on Transformative Mediation
10. – 13.3. 2014
Ljubljana, Slovenia

The training will be conducted by Marko Iršič, Certified Transformative Mediator, the founder of the RAKMO Institute, and the author of the books The Art of Conflict Management and Mediation.

This training program provides an understanding of the core purpose and foundational principles of transformative practice. In addition to exploring the goals and effects of transformative intervention, this training provides practice with the core transformative intervention skills. Through lecture, discussion, video illustrations, and skill building exercises, this training program grounds participants in an approach to mediation practice that is rooted in the assumption that conflict is a crisis in human interaction.
Transformative mediation is an approach to conflict intervention that is used in a wide range of conflict intervention settings. It is based upon the view of conflict outlined in the book The Promise of Mediation by Robert A. Baruch Bush and Joseph P. Folger and it has been adopted in organizational, court, community and governmental settings. Transformative mediation has been used in family, neighbourhood, divorce, youth, multi-party disputes and has been adapted for conflict interventions that address team development and organizational disputes.
TOPICS OF THE TRAINING
The Transformative Theory of Conflict
The Mediator's Orientation and Role
Transformative Practice:  Core Activites 1 & 2
Transformative Practice:  Core Activity 3
Openings, Closings and Related Procedures
Patterns and Dynamics of Transformative Practice
Staying on track
LEARNING OBJECTIVES
Upon completion of this program, participants will:
Understand transformative conflict theory.
Be familiar with the concepts of empowerment and recognition.
Understand the purpose of third party intervention in the transformative framework.
Understand the practices a mediator employs to support party empowerment and inter-party recognition.
Be able to engage in the basic practices of a transformative mediator
The training is intended for experienced mediators (possibly also using transformative approach already) and mediation trainers, but is open also for other participants.
______________________
How to register:

– Online registration ! APPLICATION IS NO LONGER POSSIBLE !
– E-mail:  info@transformative-mediation.eu
The seat on the Advanced Training is guaranteed only with the complete payment of registration fee.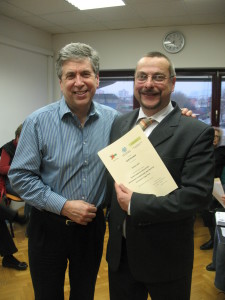 Training fee:
–  paid before February 1, 2014: 890,00 euro (VAT not included),
–  after February 1, 2014: 990,00 euro (VAT not included).
Your registration is confirmed with the payment of the training fee. Information for the training fee payment will be included in the confirmation of your registration.
Number of participants is strictly limited.
Cancellation policy:
– Cancelling before February 1, 2014 will result in 50% refund – substitute from the same organization possible with no extra charge.
– Cancelling after February 1, 2014 – no refund – substitute from the same organization possible with payment of additional 10% of administrative costs.
The Organizer reserves the right to modify the program and/or to change other published organizational details.